More ethnicity and LGBTQ+ lung cancer data 'urgently needed' say UK experts
---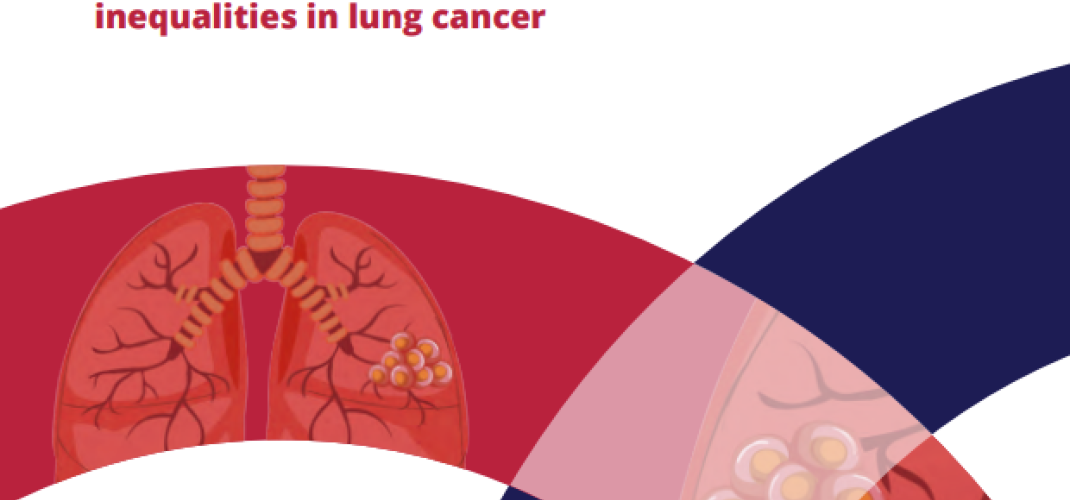 Health inequalities data for UK's biggest cancer killer is 'pitifully poor' says new report
More data on health inequalities in lung cancer, including ethnic and LGBTQ+ communities, is 'urgently needed', says a new report published today (3rd November 2022) by the UK Lung Cancer Coalition (UKLCC).1
"While we welcome initiatives such as the establishment of the Office for Health Improvement and Disparities and the NHS Race Health Observatory - the Government's priority must be to act now to tackle inequalities in lung cancer, "says Professor Robert Rintoul, Professor of Thoracic Oncology, University of Cambridge, and Chair of the UKLCC's Clinical Advisory Group, which authored the report.
Lung cancer is the UK's biggest cancer killer2 – and has the widest deprivation gap compared to any other cancer.3 Yet almost 80 percent of lung cancer cases1 - and 38 percent of all cancer cases4 - are preventable.
"If we address health inequalities successfully in lung cancer, we will have a huge impact on overall UK cancer outcomes - and save more lives," insists Professor Rintoul.
Entitled 'Bridging the Gap - The challenge of mitigating health inequalities in lung cancer', the report states that despite a wealth of data on socio-economic factors in lung cancer, the amount of evidence available for other health inequalities is "pitifully poor".
Currently, it takes longer for people from ethnic minority backgrounds to get diagnosed with lung cancer - and people in the LGBTQ+ community have a disproportionately higher risk of developing lung cancer, says the report. Yet the reasons for this are not fully understood.1
The report calls for a 'comprehensive' approach to data collection in health inequalities - to bridge gaps in current knowledge, improve outcomes and ensure people with lung cancer have equitable access to diagnosis, treatment, and care – wherever they live and from whatever background.
The recommendations include: 1
Extending the clinical remit of the National Lung Cancer Audit (NLCA) to collect more data on ethnicity, LGBTQ+ and other health inequality factors - such as gender, religion, disability, distance from health service and homelessness.
Establishing a single, coordinated data strategy, compiling evidence on health inequalities at a national, regional, and local level.  
Introducing a Personal Care and Access Card scheme, carried by the patient, which combines their existing NHS Holistic Needs Assessment information, where available, with their personal treatment and care plan.
Targeting disease awareness campaigns across the four UK nations to address local needs and communities.
"The Covid-19 pandemic, together with the current cost of living crisis, have shone a light on the huge health disparities and deep inequalities running through our society - not least in UK lung cancer," says Mr Martin Grange, Chair of the UKLCC.
"Health inequalities are complex and far reaching. Removing them is hard and takes time.  However, they will be mitigated more rapidly if we work together as a lung cancer community and ensure more systematic and robust data collection across all populations," he adds.
It is hoped that the report will serve as a 'blueprint for tackling health inequalities' - not only in lung cancer but also in other cancer types and other diseases.
-ends-
'Bridging the Gap - The challenge of mitigating health inequalities in lung cancer' is based on the opinions from a meeting of the UKLCC's Clinical Advisory Group in June 2022. It is supplemented by views and information gathered from 15 one-to-one interviews comprising CAG members and other leading lung cancer and health inequalities experts, from across the UK, during July and August 2022. Desk research and literature reviews were carried out over the same period. To download the report, visit: www.uklcc.org.uk/our-reports
About lung cancer
Lung cancer has consistently been the UK's biggest cancer killer with nearly 35,000 people dying each year. It accounts for more than a fifth of all UK cancer deaths (21%)2- and lung cancer in never smokers is the eighth most common cause of cancer-related death in the UK.4 Five-year UK lung cancer survival rates compare poorly with comparable European countries (16.2%)1 - and around one-third (32%) of people with lung cancer are diagnosed by emergency admission to hospital in England.6  However, it can be cured if diagnosed early enough.
About the UKLCC
The UK Lung Cancer Coalition (UKLCC) is the UK's largest multi-interest group in lung cancer. It was set up in 2005 with the founding ambition to tackle poor lung cancer survival outcomes and, specifically, to double five-year survival by 2015, which was effectively achieved. It is now looking to redouble five-year survival to 25 percent by 2025. The UKLCC's membership includes leading lung cancer experts, senior NHS professionals, charities, and healthcare companies with an interest in fighting lung cancer. For more information about our work and members, visit:  www.uklcc.org.uk
About the National Lung Cancer Audit
The National Lung Cancer Audit collects clinical information about the treatment of all patients newly diagnosed with lung cancer (in England, Wales, and the Channel Islands) and information about their outcomes. The audit began collecting data nationally in 2005. The audit was previously run by the Royal College of Physicians. Since 1st February 2022, the NLCA has been delivered by the Royal College of Surgeons of England. https://www.lungcanceraudit.org.uk/
About health inequalities
Health inequalities are avoidable, unfair, and systematic differences in health between different groups of people. Health inequalities are responsible for variation in health outcomes observed across different population groups.
References
For further information, please contact:
Lynsey Conway, UKLCC
07778 304233
info@uklcc.org.uk