Book now to join the 'Driving Improvement in UK Lung Cancer Care' Conference - 10th November
---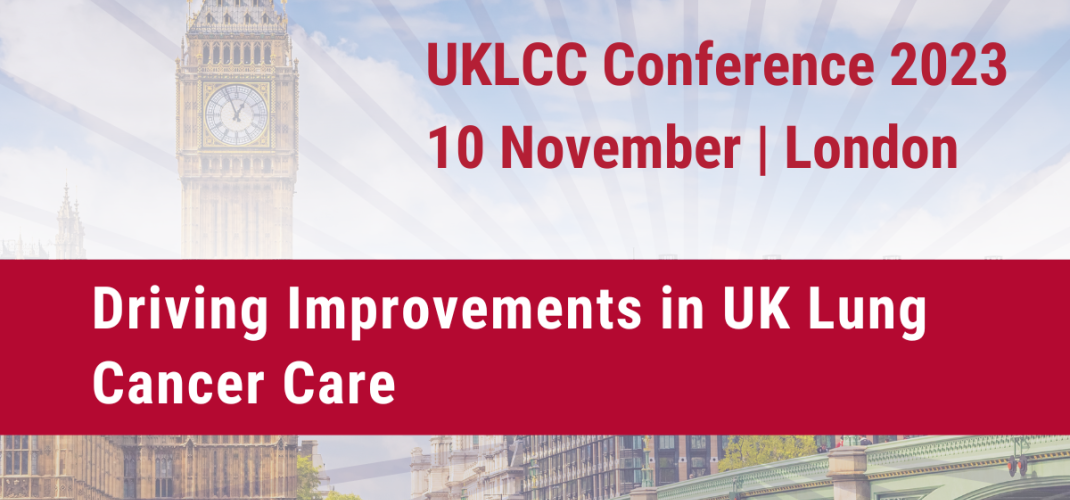 Registration is now open for the UK Lung Cancer Coalition's (UKLCC) 'Driving Improvement in UK Lung Cancer Care' on 10th November 2023, here: Registration.
This is UKLCC's first major conference, which is a one-day, face-to-face event, taking place at Mary Ward House, central London. Spaces are limited.
The UKLCC believes that real quality improvement needs to take place across the UK to achieve a five-year survival rate of 25% by 2025. Critical to achieving this ambitious target will be the ability to:
Reduce inequalities of access to optimal and timely care.
Achieve universal access to rapid genomic laboratory testing.   
Ensure the implementation and rapid roll out of the recently announced National Lung Cancer Screening programme across not just England, but across the UK.
The Conference will be co-hosted by Professor Robert Rintoul and Professor Mick Peake OBE, and feature presentations by key opinion leaders including Dr Neal Navani, Dr Melanie Mckean (Scotland), Dr Matt Evison, Professor Alastair Greystoke, Dr Craig Dyer (Wales), Mr Niall McGonigle (NI) and more. The full agenda can be accessed here: Programme
"This conference promises to help identify the main elements currently limiting our ability to ensure best practice across the UK. The meeting will use data from the most recent National Lung Cancer Audit to highlight current challenges and offer the opportunity for interactive participation to explore some of the ways these challenges can be overcome," says Professor Mick Peake OBE, Chair of the UKLCC.
This is a multidisciplinary event, and the UKLCC welcomes representation from healthcare professionals including oncologists, respiratory physicians, cancer leads, thoracic surgeons, radiologists, lung cancer nurse specialists, pathologists, members of cancer alliances and devolved nation representatives - and anyone involved in the management and delivery of care to people with lung cancer.
The outputs of the conference will be written up and key recommendations developed for publication in early 2024.
-ends-
About the UKLCC: 
The UK Lung Cancer Coalition (UKLCC) is the UK's largest multi-interest group in lung cancer. It was set up in 2005 with the founding ambition to tackle poor lung cancer survival outcomes and, specifically, to double five-year survival by 2015, which was effectively achieved. It is now looking to redouble five-year survival to 25 percent by 2025. The UKLCC's membership includes leading lung cancer experts, senior NHS professionals, charities, and healthcare companies with an interest in fighting lung cancer. For more information about our work and members, visit:  www.uklcc.org.uk
For media enquiries, please contact:
Lynsey Conway
07778 304233
email@lynseyconway.co.uk
For Conference enquiries, please contact:
UKLCC Secretariat
info@uklcc.org.uk