25 by 25
---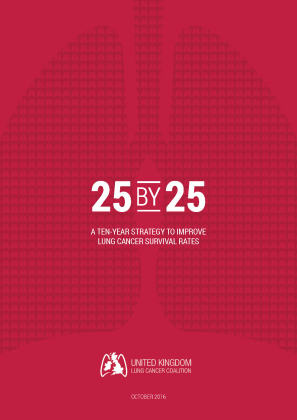 A ten-year strategy to improve lung cancer survival rates
In November 2016, the UKLCC published a ground-breaking report entitled '25 by 25: a ten-year strategy for improving lung cancer survival rates' which generated widespread UK media and political interest.  The report calls for a drastic improvement in lung cancer care across the four UK nations in order to raise five-year survival rates to 25 percent by 2025. In England, current five-year survival is 16 percent.1
The UKLCC believes boosting five-year lung cancer survival to 25 percent will save over 11,000 UK lives.
To determine how to meet this ambition, the UKLCC sought not just to explore existing clinical evidence but also the opinions of those who face up to lung cancer every day, launching a series of surveys across the UK lung cancer community. Based on this insight, the report contains a series of UK-wide principles to improve survival.
Walters S, Benitez-Majano S, Muller P, et al., 'Is England closing the international gap in cancer survival?' Br J Cancer, 4 S 2016, doi: 10.1038/bjc.2015.265.