UKLCC Impact Report
---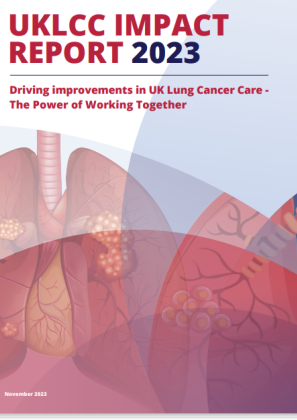 The UK Lung Cancer Coalition (UKLCC) Impact Report: Driving Improvements in UK Lung Cancer Care - The Power of Working Together - charts the progress and achievements made possible by the UKLCC and its members since its launch in 2005. 
In the last 20 years, because of the hard work and commitment from those actively working in the field, lung cancer has significantly moved up the political and clinical agenda and there have been some key milestones achieved, most notably the recent approval of targeted lung cancer screening (in England). 
Against a highly political backdrop, a pandemic - and an overstretched and overworked NHS, the UKLCC has fought to bring lung cancer out of the shadow and helped to drive quality improvements in lung cancer services and care across the UK. 
We are so proud of what we have accomplished – but our work is not yet done. Lung cancer remains the UK's cancer biggest killer and there are still huge variations in care and outcomes across the UK. Survival rates continue to compare poorly with other cancer types and other countries.
Going forward, we will continue to lobby and exert pressure on decision-makers - and work tirelessly to ensure that the very best practice and guidance is shared and adopted by all those working in lung cancer. 
Lung cancer patients deserve no less.